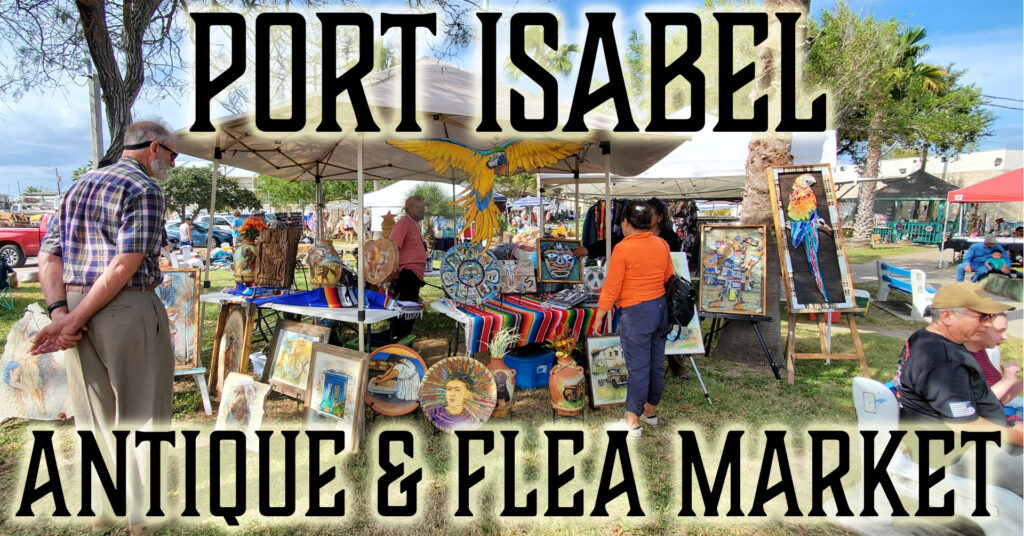 FIRST SUNDAY OF EACH MONTH, BEULAH LEE PARK. 9 AM TO 4 PM.
The Port Isabel Antique & Flea Market is a monthly (excluding December) event featuring a wide variety of local creations, collectibles and plants. Artisans display original artwork, jewelry, items crafted from beach finds and pieces inspired by local culture. Antiques and collectibles include glassware, tools and other estate items. The Port Isabel Antique & Flea Market is a pop up experience that features original, custom, upcycled, recycled and repurposed treasures and is hosted by the City of Port Isabel in Beulah Lee Park.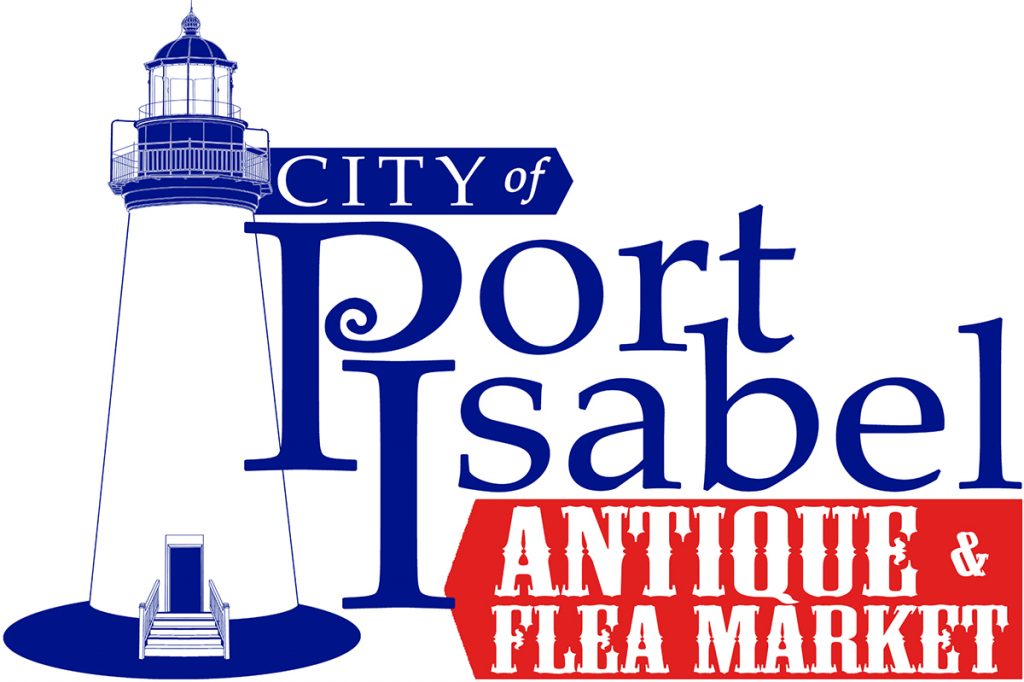 UPDATE: To join the waiting list for vendor space, fill out the application or call (956) 433-1015. NO reservations will be taken for December 2023.
RULES & REGULATIONS for 2024: Application & Information [pdf] or fill in the online application. Scroll down below the rules. Vendors must be paid up to set up. Each space is approximately 200 square feet. 2024 Rates: $40 and $65 for Spaces 1 – 4. For more information call: (956) 433-1015 or email eventcoordinator.copitx@gmail.com. Rates for the remainder of 2023: Regular booth: $30; Gazebo booth: $50. New rates go into effect January 2024. Regular booth: $40; Gazebo booth: $65.
VENDORS LISTED BY SPACE & MONTH: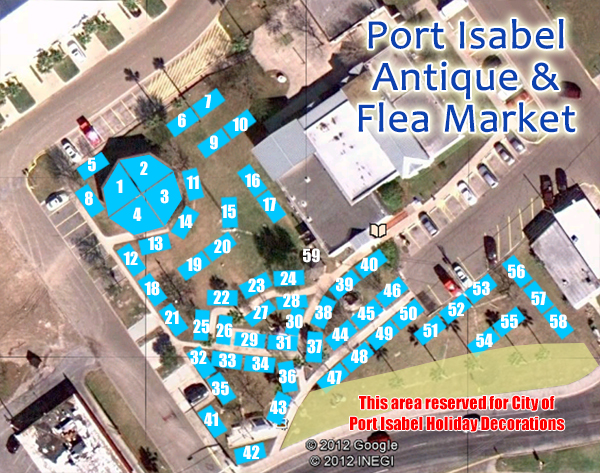 LOCATION: Beulah Lee Park on Highway 100, 213 N. Yturria Street. Dozens of dealers & thousands of deals! 1st Sunday of the Month (excluding December). FREE ADMISSION!
VENDOR SPACE COST: $30 (Spaces 1 – 4: $50 each). Rain or shine event. Schedule is subject to change. Vendor space is limited to 10 x 20'.
VENDOR RULES & SETUP INFO:
• Vendor space is available on a first come, first served basis. Cost: $30 (spaces 1 – 4: $50 each). PAYMENT MUST BE MADE WITHIN 7 BUSINESS DAYS BEFORE DAY OF SETUP TO RESERVE SPACE. If you have not paid for booth rent before Sunday you will be turned away.
• Vendors will need to supply their own tent, table or chairs or other furnishings.
• Electricity is not available. Vendors are prohibited from using any electrical receptacles in Beulah Lee Park.
• Setup should be completed by 9 a.m.
• Vendors should not park onsite. Vendor vehicles should be moved immediately after booth setup. Please do not use Dairy Queen's parking lot for vendor parking.
• Vendors not utilizing a booth space will be charged a $30 roaming fee. PAYMENT MUST BE MADE WITHIN 7 BUSINESS DAYS OF SETUP TO RESERVE SPACE. Vendors who have not paid in advance will be turned away on Sunday, the day of the event.
• Vendors are prohibited from using the parking lot for booth setup or to sell from their vehicle.
• Vendors may not sublet their space. Vendors doing so may be restricted from future participation and will forfeit future reservations and payments. The sublet vendor will be required to leave.
• Pack in, pack out. Leave no trash or any other items behind.
• Vendors violating any Vendor Rules may be asked to leave by event management and may not requalify for vendor space at future events. Vendor space payments will not be refunded.
BEULAH LEE PARK RULES:
• Pets on a leash or carrier are allowed. You must pick up after your pet.
• No alcoholic beverages are allowed on the grounds of Beulah Lee Park.
• No smoking is allowed on the grounds of Beulah Lee Park.
• No vehicles are allowed inside the park.
STATE SALES TAX COMPLIANCE:
• Vendor must collect and remit taxes collected on taxable items directly to the State Comptroller's Office.
• Vendors selling taxable goods at the Port Isabel Antique & Flea Market are required to register with the Texas State Comptroller's Office and display their sales tax certificate during the event. City of Port Isabel staff will be asking for a copy of sellers' sales tax certificate.
• Permit info: https://comptroller.texas.gov/taxes/permit/
SPACE RENT:
• Space rent will be collected WITHIN 7 BUSINESS DAYS BEFORE THE EVENT AND NOT ON THE DAY OF THE EVENT.
• $30 space (spaces 1 – 4: $50 each), payable BY CREDIT OR DEBIT CARD.
• No refunds. This is a rain or shine event. In the event of bad weather, your fee will be applied to the following month's event only.
WHAT YOU CAN SELL:
• Collectibles, antiques, original and custom creations, pre-packaged foods compliant with the Texas Cottage Rule, clothing, shoes, accessories, crafts, jewelry, artwork.
• Items restricted: food prepared onsite, firearms, illegal items, CBD products or derivatives.
CONTACT:
Email: eventcoordinator.copitx@gmail.com
Facebook DM: facebook.com/portisabeltx
Phone: 956/433-1015
VENDOR SPACE* APPLICATION:
*Scroll up for a list of spaces that have already been reserved in the month you are interested in.