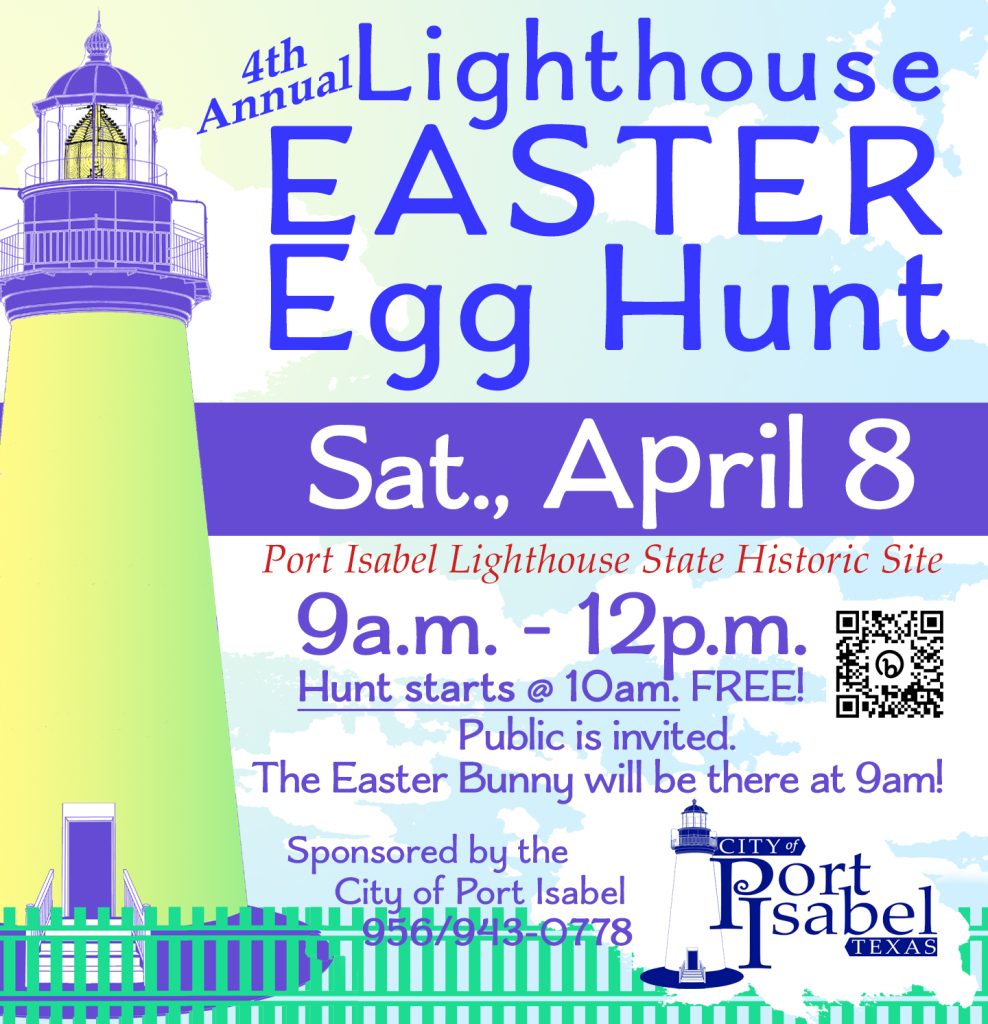 The City of Port Isabel has scheduled their 4th Annual Easter Egg Hunt on the grounds of the Lighthouse for Saturday, April 8th. Participants may enter the park at 9:30 a.m. and the Easter Egg Hunt will begin at 10 a.m.
It's a different kind of "hunt". Nearly 30,000 eggs will be scattered on the hill of the Lighthouse. Participants will need to bring their own baskets and will line up on the east side of Lighthouse Park. At 10 a.m. the starting line will be released, and the fun begins. The Easter Bunny will also be making an appearance and posing for photos.
Local businesses also participate in the event as a Lighthouse Easter Egg Hunt Stop. Easter Eggs will are available during the week prior to Saturday, April 4 – 7 during each businesses open hours. Limited quantities, first come, first served.
The Keeper's Cottage Visitor Center will be open from 9 a.m. to 12 p.m. and 2 p.m. to 5 p.m. The Lighthouse will be open 9 a.m. to 6 p.m. Admission: $5 adults; $4 seniors; $3 children. Parking available around the park. (956) 943-1822.
2023 CITY-WIDE EASTER EGG HUNT STOPS
ReMax Realtors
Port Isabel South Padre Press
Port Isabel City Hall
Port Isabel Historical Museum
Port Isabel Lighthouse State Historic Site
Pirates Landing Restaurant
Joe's Gulf Seafood & Oyster Bar
Don Nato Bakery
Black Dragon
Nutrition Revolution
Chilitto Pikin
Starbucks
White Sands Inn Suites Marina
Reyes Bakery
El Papa's Restaurant
Cat's Meow Vintage Emporium
Lighthouse Boutique Hotel
Art Sea Gallery & Goods
Burger Shack
Rio Grande Distillery
Hopper Haus
The Unruly Cactus
Lighthouse Lighting Center
Welcome Aboard
Jack in the Box
Nearly 30,000 Easter Eggs will be hidden on the Lighthouse Park Hill or distributed through local participating businesses!
The 4rd Annual LIGHTHOUSE Easter Egg Hunt & City-Wide Easter Egg Hunt Stops (2023) is sponsored by: Port Isabel Lighthouse State Historic Site, City of Port Isabel, Port Isabel Economic Development Corporation, Port Isabel Public Library, Port Isabel Social Services, Port Isabel Historical Museum, Port Isabel Public Works.