2023 ~ 2 DAY EVENT! September 30 – October 1 featuring live CONCERTS by SIGGNO & SOLIDO!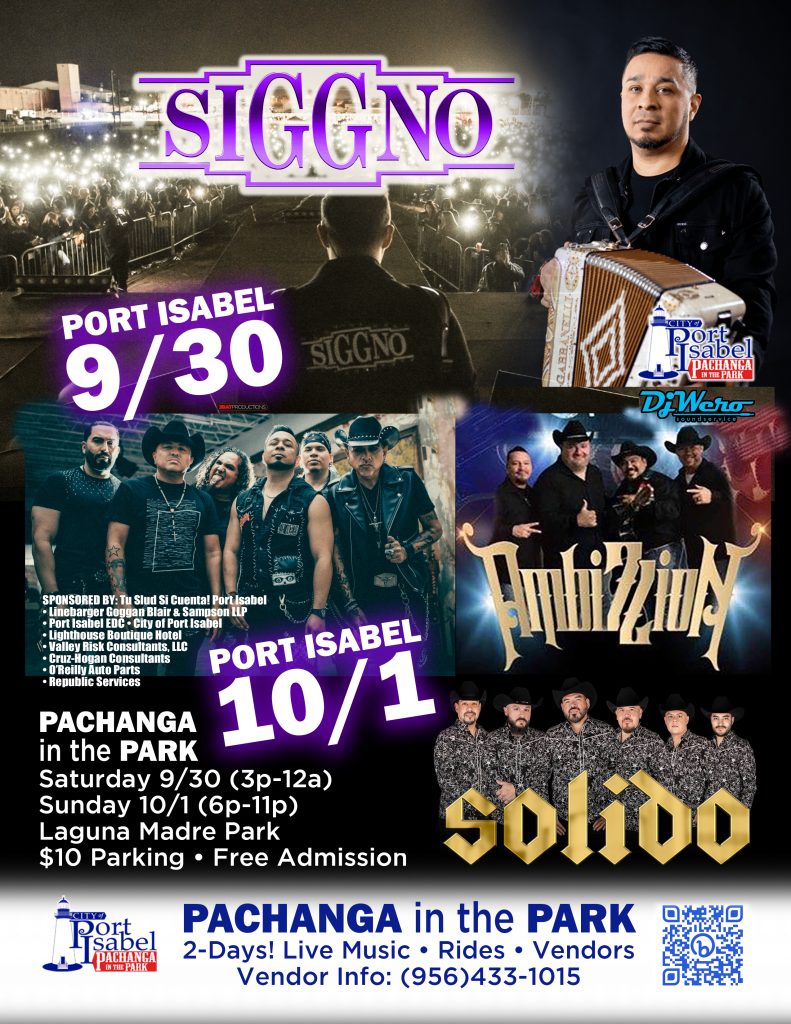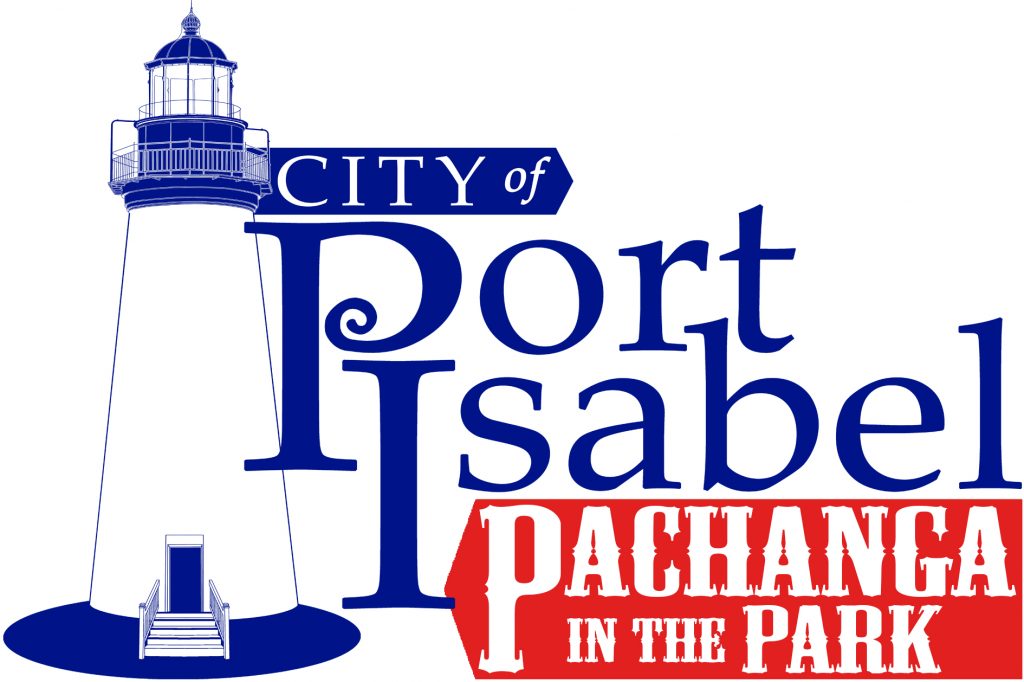 The 12th Annual PACHANGA in the PARK will feature a live concert by SIGGNO on Saturday (9/30) & SOLIDO on Sunday (10/1)! Lots of Live Music with Ambizzion & Infusion & DJ Wero. Vendors & Rides! Laguna Madre Park just off Port Road, right off Highway 100. September 30 – October 1, 2023, (Saturday 3 p.m. – 12 a.m. & Sunday 6 p.m. – 11 p.m.). Parking: $10 (9/30 5p.m. – 12 a.m. Free parking all day Sunday). Free Admission to the event.
Thanks to our sponsors! Port Isabel EDC • City of Port Isabel • Lighthouse Boutique Hotel • Linebarger Goggan Blair & Sampson LLP • Valley Risk Consultants, LLC • Republic Services • Cruz Hogan Consultants • O'Reilly Auto Parts • Tu Salud Si Cuenta, Port Isabel • Rio Grande Valley Electrical, Inc.!
No chairs, tents, ice chests or pets allowed.
Want to be a Vendor? Click here for vendor-application and more info or see below for more information and online vendor form. For vendor info call (956) 433-1015 or email eventcoordinator.copitx@gmail.com. PACHANGA in the PARK will be held on the grounds of Laguna Madre Park.
VENDOR SPACE: VENDOR SPACE IS NOW CLOSED.
Booths will be open to the public from Saturday 3 p.m. – 12 a.m. & Sunday 6 p.m. – 11 p.m. Booth space cost is $250.00 for the 2-day event regardless of location. Booth spaces are 10' x 10'. Vendors are responsible for their own canopy/tent, chairs, tables, a 50-ft. extension cord and any other items required to conduct business. Event lighting will be provided by the baseball field lighting. Additional booth lighting is the responsibility of the vendor. A strict limit of two crock pot sized appliances and the use of one (1) household type outlet. Electricity will be available to all booths. Food vendors may offer up to three (3) items. No more than three (3) food vendors may offer the same product. Setup time: Saturday 12:00 – 2:00 p.m.; Sunday 3:00 – 5 p.m. All vehicles must be off the site and parked in vendor designated parking one hour before gates open.
Once you submit the vendor form you will be contacted to confirm booth availability, qualification of your products and for payment in full by debit or credit card.
FOOD TRUCKS:
Seven spaces are available for food trucks. Setup time: Saturday 12:00 – 2:00 p.m.; Sunday 3:00 – 5 p.m. Food service only, no drinks. Units must be entirely self contained. No dumping allowed. Cost per space: $500 for the 2-day event.
In order to participate in the Port Isabel's PACHANGA IN THE PARK, ALL VENDORS must agree to the following provisions below:
1. The City of Port Isabel reserves the right to remove any vendor at any time, for any violation of the regulations set forth in the current year's information regarding the PACHANGA IN THE PARK.
2. In consideration of the use of one or more spaces by the undersigned vendor participation in Port Isabel's PACHANGA IN THE PARK, the undersigned agrees to defend, indemnify, and hold harmless the City of Port Isabel, its officers, agents, employees, and members from and against all liabilities, claims, suits, or demands for injuries to any person and/or property arising out of the undersigned's injuries to persons he or she may cause by participating in such activities.
3. NO VENDOR shall sell any illegal items or items that infringe on registered trademarks.
4. ALL VENDORS must offer items for
sale. Vendors offering giveaways must not be political in nature or represent any political candidate.
5. Electricity – You must bring your own heavy-duty extension cord at least 50' in length. Cords across walkways must be taped down. Do not overload outlets — do not use more than normally used on one household type outlet, there is A STRICT LIMIT OF TWO CROCK POT SIZED APPLIANCES. DO NOT RUN FANS, HEATERS OR OTHER PERSONAL CONVENIENCES.
6. PAYMENT NOT REFUNDABLE due to weather. Event will go on rain or shine or will be rescheduled.
7. ATTENTION VENDORS: No sale of soft drinks, water, or other beverages allowed without prior permission. This request will be enforced.
8. No vehicles on premises after setup.
9. No glass containers allowed in the park.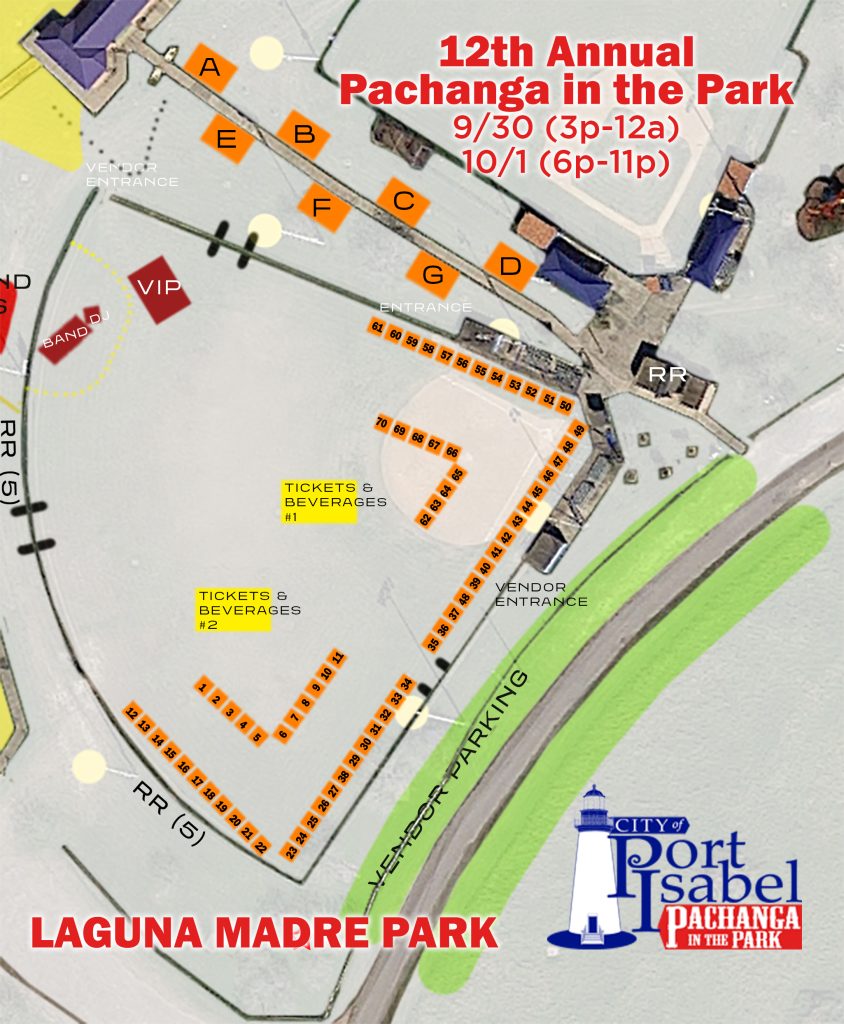 VENDOR SPACE APPLICATION: