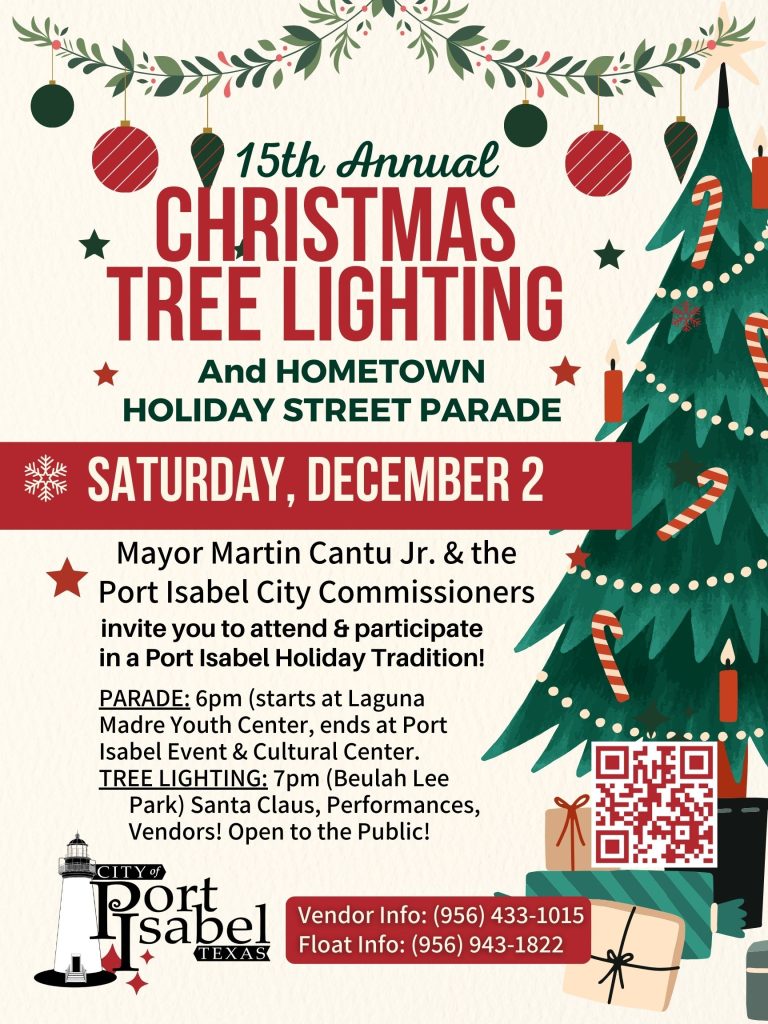 City of Port Isabel Announces Annual Christmas Tree Lighting & Hometown Christmas Holiday Parade
Saturday, December 2 at 6 p.m./7 p.m.
The City of Port Isabel will kick off the 2023 holiday season with their 15th Annual Christmas Tree Lighting & Hometown Christmas Holiday Parade on Saturday, December 2. See Parade & Vendor apps below.
PARADE ENTRIES
Port Isabel Police Department
Mayor Cantu & City Commissioners
Port Isabel Volunteer Fire Department
Cameron County Sheriff's Department
Constable Norman Esquivel, Pct. 1
Infinity Fitness by Tina
Pirate's Landing Restaurant
Port Isabel Chamber of Commerce
Captain's Quarter
Shark Tank
Justice of the Peace Judge Benito "BO" Ochoa IV, Pct. 1
Laguna Madre Water District
Whataburger
Masonic Lodge 33
Port Isabel Police Department (Float)
Port Isabel Public Works (Sweeper)
City of Port Isabel Social Services
Laguna Vista Fire Department
Port Isabel Emergency Medical Services
South Padre Island Fire Department
PIECHS Cheerleaders
City of South Padre Island "Island Metro"
Cabalgantes los Rancheros
T-Mobile
Democratic Candidate for Cameron County Constable, Pct. 1 Daniel Holland 
Upper Deck Hotel & Bar 
PERFORMERS
Garriga ACE Cheerleaders – Ms. Michelle
Garriga ACE Drum Line – Ms. Michelle
Derry Elementary Choir – Ms. Ramon
Derry ACE Cheerleaders – Mrs. Ana
PIJH Silver Stars – Ms. Nora
PIECHS Cheerleaders – Mrs. Gesela
PIHS Silver Belles – Ms. Taylor
PIHS Mariachi Plata – Mr. Salas
VENDORS
1.
2.
3. Cecelia Zamora "Health Outreach – Tu Salud Si Se Cuneta" – Blood Pressure Readings
4. Francisca Sanchez "Maxine's Boutique" – Light-Up Toys
5. Emery Nino "Laguna Madre Youth Center" – Hot Chocolate
6. "City of Port Isabel" – Soft Drinks & Water
7.
8. Yessenia Garza "Yesy's Artisanales" – Tamales (Chicken & Pork)
9.
10. Alma Villanueva 'Tacos de Pelon" – Tacos (Bistek & Pork) & Quesadillas (Bistek)
PARADE> Want to enter a float? See waiver here.
Staging for the parade will take place at 4:30 p.m. in front of the Laguna Madre Youth Center on Port Road. The parade will begin at 6:00 p.m. The parade route will head east on Queen Isabella Blvd. (Hwy. 100) and end at the Port Isabel Events & Cultural Center (309 E. Railroad Ave.).
Parade applications [Parade Application, Rules & Waiver] must be in by Friday, December 1, 2023. Any application received after Friday, December 1st will be inserted at the end of the parade line-up in the order it is received. Online application here below or call (956)943-1822.
Parade line up begins at 4:30 p.m., and the parade begins at 6:00 p.m. Cash prizes for 1st and 2nd place. Winners will be notified and announced on social media. Awards can be picked up at the Port Isabel City Hall beginning on Monday, December 4.
CHRISTMAS TREE LIGHTING CEREMONY> See vendor rules & regs here.
Mayor Cantu Jr. and the Port Isabel City Commissioners invite you to attend and participate in a Port Isabel holiday tradition, the lighting of the Community Christmas Tree in Beulah Lee Park. Starting at 7 p.m., the event will feature performances, vendors, Santa Claus and a bigger and brighter Christmas tree.
The event is open to the public. Limited vendor space is available. Application is below or call (956)433-1015.
The City of Port Isabel's Public Works Department will also be decorating the Highway 100 medians with festive holiday lights and more. A longtime tradition, the City of Port Isabel adds new and exciting features each year.
VENDOR APPLICATION> see vendor rules & regs here.
CHRISTMAS PARADE FLOAT APPLICATION> see waiver here.