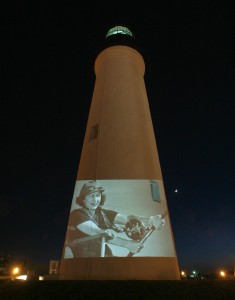 During the summer months between the weekend of June and the end of August, Port Isabel hosts the Lighthouse Establishment Cinema! Every other weekend at 9:30 p.m. after South Padre Island's fireworks over the Laguna Madre Bay, a movie is projected on the side of the historic Port Isabel Lighthouse!
BACKGROUND: In 2003, during the Museums of Port Isabel's Day of the Dead Celebration, images were projected on the side of the Lighthouse while stories of suspense were shared by the community. That event was followed by the implementation of a plan to make this unique opportunity a recurring, scheduled event and the first summer schedule was set. In 2008, fans of the event were able to get involved in the movie selection process by participating in a movie screening survey.
OUR PARTNERS: The Lighthouse Establishment Cinema is a family friendly, free event thanks for the participation of several City of Port Isabel Departments including the Museums of Port Isabel, the City of Port Isabel Public Works, the Port Isabel Economic Development Corporation and the City of Port Isabel Police Department. Sponsors also participate by providing the funding needed to secure the rights to show the movies from a theatrical distribution company. Sponsors that have supported this project from the very beginning have been Pirates Landing Restaurant and Coleman Hall & Heinze Insurance Co. Other sponsors include: Port Isabel Public Library, Koldar Engineering, Lynn Tate Real Estate.
FOR MORE INFORMATION: Please email info@portisabel-texas.com for more information on the LHEC project.