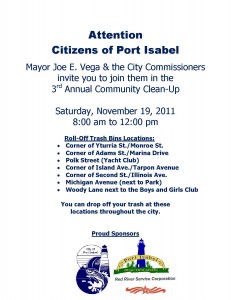 Mayor Joe E. Vega & the City Commissioners & the Beautification Committee invite you to join them at the 3rd Annual Community Clean-Up!
Saturday, November 19, 2011 8:00 am to 12:00 pm
Roll-Off Trash Bins Locations:
~Corner of Yturria St./Monroe St. ~Corner of Adams St./Marina Drive ~Polk Street (Yacht Club) ~Corner of Island Ave./Tarpon Avenue ~Corner of Second St./Illinois Ave. ~Michigan Avenue (next to Park) ~Woody Lane next to the Boys and Girls Club You can drop off your trash at these locations throughout the city.
Sponsored by: City of Port Isabel, Port Isabel Beautification Committee & Red River Service Corporation.