Up and Coming in Port Isabel!
LEFT, Happy the Entertainer will be performing at the Port Isabel Event & Cultural Center on Friday, May 8. Tickets are on sale now! Some VIP seats are still available. See story below.
Visit historic Port Isabel and enjoy visiting the Museums of Port Isabel, explore our unique shops with new arrivals for that special trinket or souvenir or collectible. Or grab a great meal in our restaurants or cafes. And visit other businesses around Historic Lighthouse Square, all within walking distance of the Port Isabel Event & Cultural Center where you can also take in the view of the beautiful Laguna Madre Bay. Then extend your visit! See our accommodations here> http://portisabel-texas.com/blog/accommodations/.


Sunday, May 3rd, from 9 a.m. to 4 p.m., Port Isabel Antique & Flea Market. Beulah Lee Park on Highway 100. Dozens of dealers & thousands of deals! March – October: 1st Sunday of the Month. 1st & 3rd* Sunday 9a-4p November – February. FREE ADMISSION! For more information: Gloria Bates 956/455-6798.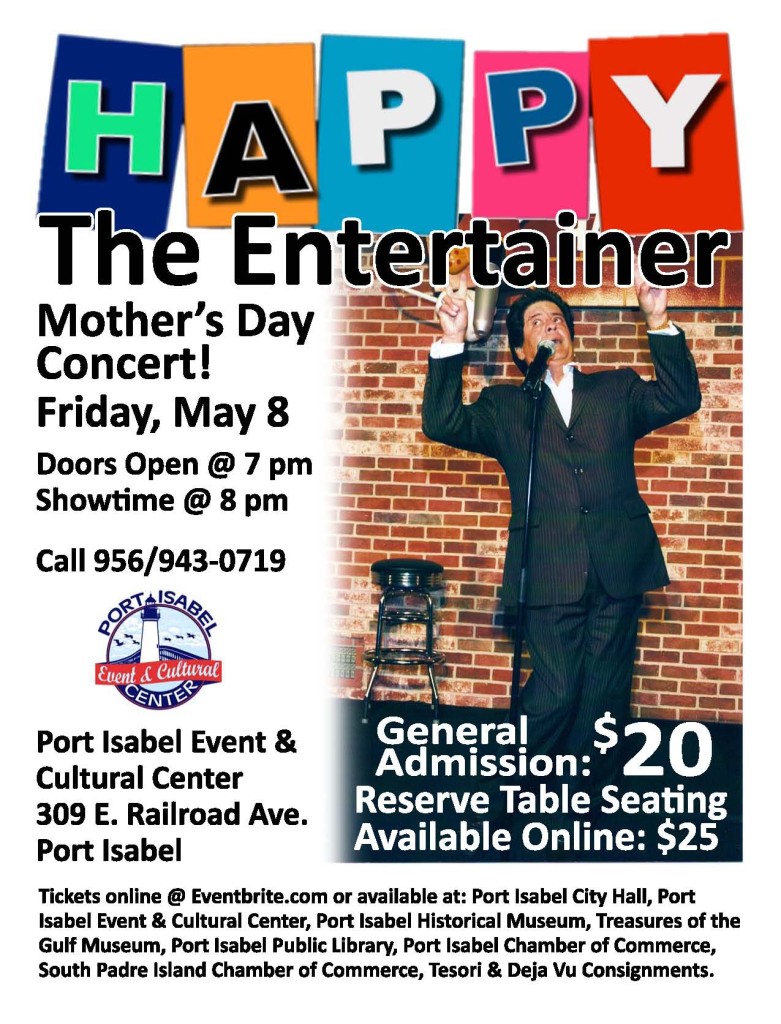 HAPPY The Entertainer's Mothers Day Concert!
Friday, May 8th at the Port Isabel Event & Cultural Center (309 E. Railroad Ave. 956/943-0719). One show! Doors open at 7 p.m. Showtime: 8 p.m.
Tickets are available at: Port Isabel City Hall, Port Isabel Event & Cultural Center, Port Isabel Historical Museum, Treasures of the Gulf Museum, Port Isabel Public Library, Port Isabel Chamber of Commerce, South Padre Island Chamber of Commerce, Tesori & Deja Vu Consignments. Or online: https://happy-concert.eventbrite.com. There are a limited number of VIP seats available, ONLY online.
Happy, an international award-winning entertainer is one of the top Latino comedians in the United States. Happy's performances have delighted thousands of diverse audiences who attend his comedy concerts, convention presentations, and private events throughout the United States, Mexico, and Puerto Rico.
Happy is a past member of the Texas Magician's Association and has won numerous awards in comedy and night club magic.  He was also a member of the International Brotherhood of Magicians.
Happy has written and produced six comedy CD's, they are: Happy Live Disconnected, El Pachuco Dude, Dalé Gas,Happy Live! Chisquitito, Barely Reality and his most recent CD release, La Migra Gone Wild.  And is currently producing his latest CD, "What Was I Thinking?"  Happy has also recorded two comedy DVD's, Happy Live! I and Happy Live! II. Happy was featured in two historical movies shot in South Texas "Anastacia, " and Harvest of Redemption, independent films released in April 2005 and 2006.  Just recently he is in a film with Pepe Serna in "Gino's Wife." Happy was the original host and co-producer of the comedy show Que Loco¡ televised on the Galavision network, and has open for many big name bands as well as comedians like George Lopez, Paul Rodriguez, and Bill Cosby and a few others.
Happy's performances have thrilled and entertained audiences of all ages with his comedy and magic.  The combination of his musical and comical talents makes his stand-up comedy show a totally unique and unforgettable experience.  Happy's singing impersonations of: Willie Nelson, Julio Iglesias, Antonio Aguilar, Marco Antonio Soliz, Alejandro Fernandez, Luis Miguel, Juan Gabriel, Roy Orbison, Louis Armstrong, Rod Stewart, George Strait, Elvis and many others, is a featured highlight of his show.
Happy has entertained packed houses as the host of past Tejano Music Awards in the Alamo Dome in San Antonio Texas and was invited to resume the hosting duties, to the delight of fans, for the Tejano Music Awards held at the Kickapoo Lucky Eagle Casino in Eagle Pass, Texas.
Happy has appeared at the famed Improv Comedy Clubs in Los Angeles, California, Houston Texas, and returns to the Improv in Harrah's Hotel and Casino in Las Vegas on a regular basis. Happy's dynamic performance is guaranteed to entertain, amuse and amaze his audience. It's Happy!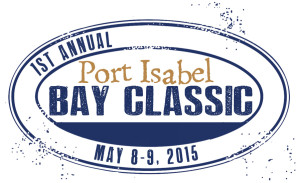 1st ANNUAL PORT ISABEL BAY CLASSIC. Hosted by the Port Isabel Chamber of Commerce and Pirate's Landing Fishing Pier. May 8-9, One day bay fishing tournament. Open to the first 50 boats or up to 200 anglers. Early registration, $75 for adults. Late registration, $90. For more information, contact the Chamber office at 943-2262 or email director@portisabel.org. Headquartered at Pirate's Landing Fishing Pier. Click here for more event details: http://portisabelchamber.com/Events/BayClassic.aspx

Museums Telling Our Stories. Thursday at the Treasures of the Gulf Museum
The Museums of Port Isabel and the Laguna Madre Museum Foundation are proud to present its "Telling Our Stories" Series of 2015 on Thursday, May 28, at the Treasures of the Gulf Museum at 7pm. (317 E. Railroad Ave.)
TOPIC: US Mexican War & Fort Polk. Early of local interest. Presented by Jim Mills.
"Telling Our Stories" is an educational program aimed to preserving the heritage of the City of Port Isabel and the Laguna Madre area. Our goals are to preserve and educate our local and natural history through presentations and exhibits. The program is co-sponsored by the Museums of Port Isabel and the Laguna Museum Foundation. "Telling Our Stories" is presented on the fourth (4Th) Thursday of each month from January through September at the Treasures of the Gulf Museum. Admission is FREE.
Sponsored By:  Laguna Madre Museum Foundation
For more information on Telling Our Stories or to help sponsor an event, contact Jeannie Marie A. Flores at (956) 943-7602 or visit www.portisabelmuseums.com or you may also send an email to jrivera@copitx.com.
COMING IN JUNE…


2015 SUMMER CAUSEWAY RUN Set for June 6th.
Run or walk to Port Isabel across the beautiful Queen Isabella Causeway from South Padre Island, Texas. 10K Causeway Run starts at 8:00 a.m. and 5K Fitness Walk starts at 8:30 a.m. The event route starts on South Padre Island and finishes across the Causeway in Port Isabel. 1-800-527-6102 or 956/943-2262. Register online at: http://bit.ly/1PIRJud