On Saturday, October 11, 2014, the City of Port Isabel and the Port Isabel Museums will be hosting their annual Lighthouse Market Day from 9 a.m. to 4 p.m. on the Lighthouse grounds.
Vendors on the Lighthouse Square will be offering a variety of food, antiques, arts & crafts, art and more. For vendor information, click here.
Special admission prices to museums! The Port Isabel Historical Museum and the Treasures of the Gulf Museum will be open from 10 a.m. to 4 p.m. and will have a special admission price of $1.00 for each site. Come join in the fun, enjoy historic Port Isabel during Lighthouse Market Day.
Check out our Facebook Event for more information and special sales from merchants around the Lighthouse Square! https://www.facebook.com/events/686727554744994
Vendor Packet: vendor-application. For more information contact Jeannie Flores, Museum Director at 96/943-7602 or email museumdirector@copitx.com.
Vendor Map: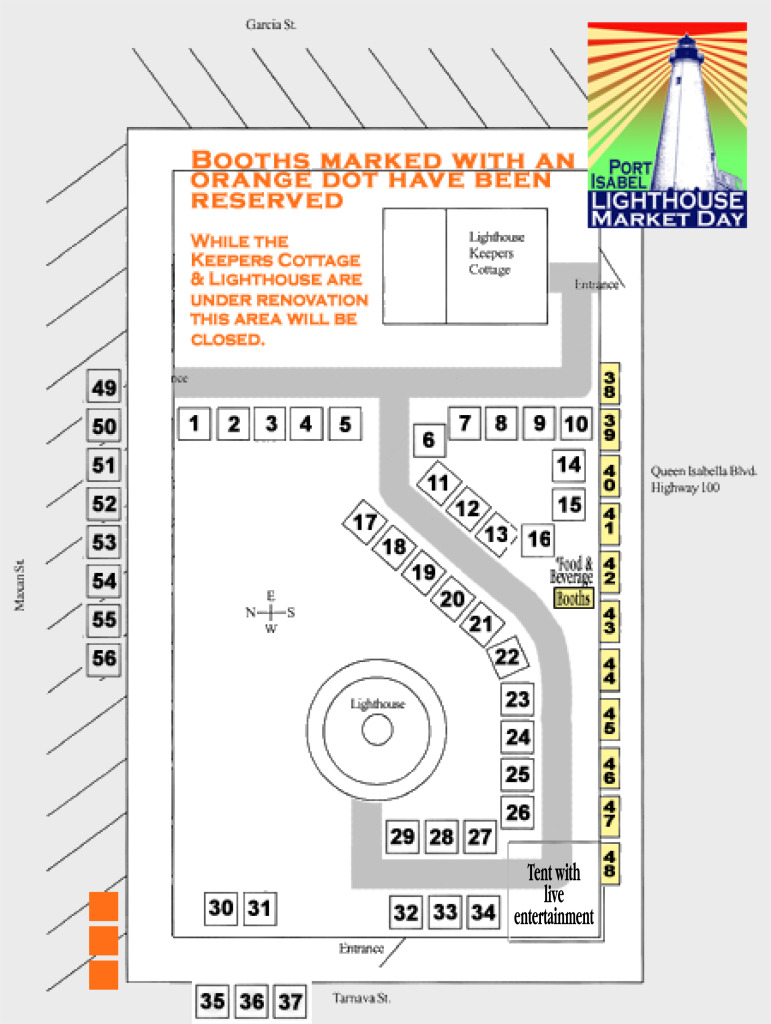 Vendors:
Booth 1 – John Redington …Wooden Handmade BirdHouses & Planters
Booth 28 & 29 – Darla Gomez "D's Western Bling Barn" …Sandals, Belts, Purses & Jewelry
Booth 35 – Maricela Delgado "El Rey de los Elotes – Church" …Takis, Mexican Bolis, Ice Cream, Corn on the Stick / Cup, Tostadas & Chicharrones Bag w/Salsa & Cheese
Booth 44  – Flor Hall …Gorditas (De Carne de Puerco (Pork) w/Salsa, Nopales con Carne, Chicharron, Picadillo, Frijoles (Beans) w/Cheese & Tamales de Veracuzanos (Pollo (Chicken) & Puerco (Pork)
Booth 45 – Perry Aby "Aby's Snack Bar" …Soft Drinks (Diet Coke, Coke, Sprite & Dr Pepper), Ice Cold Bottle Water, Nachos, Frito Pies w/Chil & Hot Cheetos w/Cheese
Booth 46 – Diana Baston "Agua Frescas" …Pineapple, Melon, Horchata, Watermelon & Lemonade
Booth 47 – Erica Luna …Candy Apples (Chili & Original Red) Cornnuts, Pickles, Mexican Candy, Chocolate Candy Bars & Popcorn
Booth 48 – Ronnie Allfred "Rodeo Concession" …Funnel Cakes, SnowCones. Hot Dogs & Corn Dogs