"Very active, in my 30 years, this place is very active" and this is "the most haunted area in the Valley", conclusions that two groups visiting various sites in Port Isabel came to after listening to things that go bump in the night.
Oddly, the Port Isabel Cemetery and the Palangana Cemetery were quiet. A mysterious noise found in Pirates Landing turned out to be the ice maker and a serious of tests in Southwind Inn proved that the structure of the building contributed to ghostly sounding voices and other noises.
However, the Ghost Hunters of South Texas and the Central Texas Paranormal Society did record a number anomalies in the Port Isabel Fire Hall, the Champion Building, the Yacht Club, White Sands Restaurant and the Point Isabel Historic Lighthouse.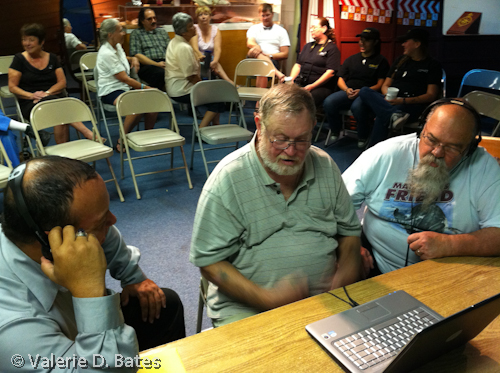 In a reveal at the Treasures of the Gulf Museum on Monday, the Ghost Hunters of South Texas and the Central Texas Paranormal Society shared a number of EVPs (electronic Voice Phenomena) captured during their research. A male voice clearly says, "How now brown cow?" "Union… uniforms as well." A male voice with a southern drawl also says, "Don't fall down and get killed." All of these findings recorded in the Port Isabel Lighthouse.
Research at White Sands served to try to answer questions about slamming kitchen doors and the presence of a loved one that had passed away as wait staff had reported feeling a tap on their shoulder when no one was around. The team set up at Table 11 and reported a lot of activity in the area. Audio recorded at the historic Yacht Club sounded like a voice said, "Danielle" and another voice, "Jesus".
Plans are also underway for a series of Ghost Tours during the month of October. The tours will be guided and include a number of the sites researched by the Ghost Hunters of South Texas and Central Texas Paranormal Society. Tickets for the one hour walking tours will go on sale soon at the Museums of Port Isabel, the Chamber of Commerce and the Port Isabel City Hall. For more information, contact Merchants Committee Chair Linda Garrett at 956/943-8080.
Pictured are City Manager Edward Meza and Southwind Inn Ron Bliss with paranormal researcher as they listen to audio captured during the team research.